Introducing The
Vexontm Helmet...
(DOT and Snell Pending)
Providing Improved Peripheral And Frontal Views
For High Speed Racing
*****New Product/Trademark For Licensing, Manufacturing, and/or Investors*****
---
| | |
| --- | --- |
| U.S. Utility Patent: | # 6,295,653 |
| U.S. Design Patent: | # D411,900 |
| U.S. Trademark (Vexon): | # 76/282546 |
| Product Developer: | Michael Puleo |
Low Manufacturing Cost
Inventor-Made Protoype Available
(Newly Configured Shell and View Window Visor)
FIG. 1
FIGURE 1 is a left side view of the Vexon tm helmet.
The List of Reference Numerals below also correspond to the right side of the helmet.
Illustration of helmet below is based on a prototype model constructed by inventor.





LIST OF REFERENCE NUMERALS
10 left side narrowed portion
20 left side rim extending backwards then angling upward to top rim (deepest portion of the right rim is at eye level)
30 the extension of the visor into the left side narrowed portion of helmet
40 the step down cut-out to lower left rim
50 lower left side visor locking arm
60 housing for apparatus that attaches top left visor to helmet enabling it to move up and down
70 right side view of visor
Full Face Helmet Comparisons
Full Face VEXON Helmet
Full Face Conventional Helmet
Please note the differences between both helmets.
(The modification made to the Vexon Helmet maintains its structural integrity).
The side rims of the view window of the Vexon helmet are further back than the conventional helmet, allowing an unobstructed peripheral view. They slant backwards and then at about eye level, angle forward to the top rim, unlike the rounded configuration of conventional helmets. This significantly eliminates the eyes from focusing on the side rims and the padding of the helmet when looking out of the view window at the sides.
The step-down cutouts to the lower rim of the view window below each eye helps to improve frontal view. These step-down cutouts widen the view window from top to bottom, unlike the conventional helmet. The helmet's visor has been modified to improve peripheral vision. These step-down cutouts work in conjunction with the configuration of the side rims of the view window to improve peripheral view.
The Vexon helmet's shell has narrowed portions at the sides at eye level, contributing to enhancing peripheral vision. These narrowed portions resurface at the middle of the helmet. The inner padding thickness of this helmet meets DOT standards.
A DOT/SNELL helmet was modified to incorporate the Vexon's unique features.
PROFESSIONAL SUPERBIKE RACERS LEANING
THEIR MOTORCYCLES TO HANDLE THE HAIRPIN TURNS
ON THE RACE TRACK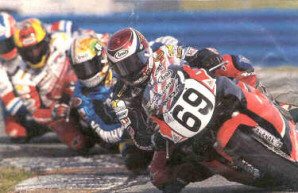 If you are interested in licensing, purchasing the rights to the above invention or entering into a royalty agreement please contact the patent and marketing office of Michael I. Kroll as follows:
Michael I. Kroll
Suite 304
80 Skyline Drive
Plainview, New York 11803
Tel. #: 800-367-7774
Tel. #: 516-367-7777
Fax #: 800-367-7999
Fax #: 516-802-0510

or contact product developer
Michael Puleo
Tel. #: 1-347-837-2551